Gosh, I am SO late for this one!!!! The reveal was on August 31st, and I finished making my piece a couple weeks before that. I was all set (and excited) for the reveal, and some time around August 21st, my home internet connection decided to die. It was resurrected only yesterday, so here I am with my post!
What's it about?
Erin Prais-Hintz of Tesori Trovati
had put out a call in the beginning of August to join the "staycation" edition in her "Challenge of Travel" series. We were to explore what our hometowns had to offer for visitors. Hometown could be anything...the town you grew up in, the town where you live now, any place you call home.
I was torn about "where" home is! In my heart, its always, always, always going to be India (and in my mind, when I say, I want to go home, I will always mean I want to go to India) But in reality, and for all practical purposes, home is California. So this is about California! And it is more about the history of California than present day California. Hope that is ok!
Narrowing down to where I live...Santa Clara. Silicon Valley. We have so many tech companies headquartered right here. Google, Facebook, Apple, Cisco, eBay, PayPal, LinkedIn...just to name a very select few. I guess being a tech hub is what my hometown is well known for. But I would like to step back into history and speak about the actual street that I live off of.
El Camino Real ~ The Royal Road! Before I begin singing its glories, I have to admit that I
hate
driving on it. With that taken care of....
This is a historical road, stretching from San Diego in Southern California to Sonoma in Northern California, connecting 21 Franciscan missions. However, the road's importance and its name recognition have far outlasted that of the missions it originally served.
Here is more information about the road:
History Of El Camino Real
*this part of my post is copied from wikipedia*
In 1892, Anna Pitcher of Pasadena, California initiated an effort to preserve the as-yet uncommemorated route of Alta California's Camino Real. Given the lack of standardized road signs at the time, it was decided to place distinctive bells along the route, hung on supports in the form of an 11-foot (3.4 m) high shepherd's crook, also described as "a Franciscan walking stick."
*end of wikipedia excerpt*
These bells have always fascinated me...and are a very prominent part of my design.
Here's a picture of the bell over at the mission in Santa Barbara. This is the only picture of the bells that I have managed to click.
Here's a better version, not clicked by me. Click on the picture to go to original website: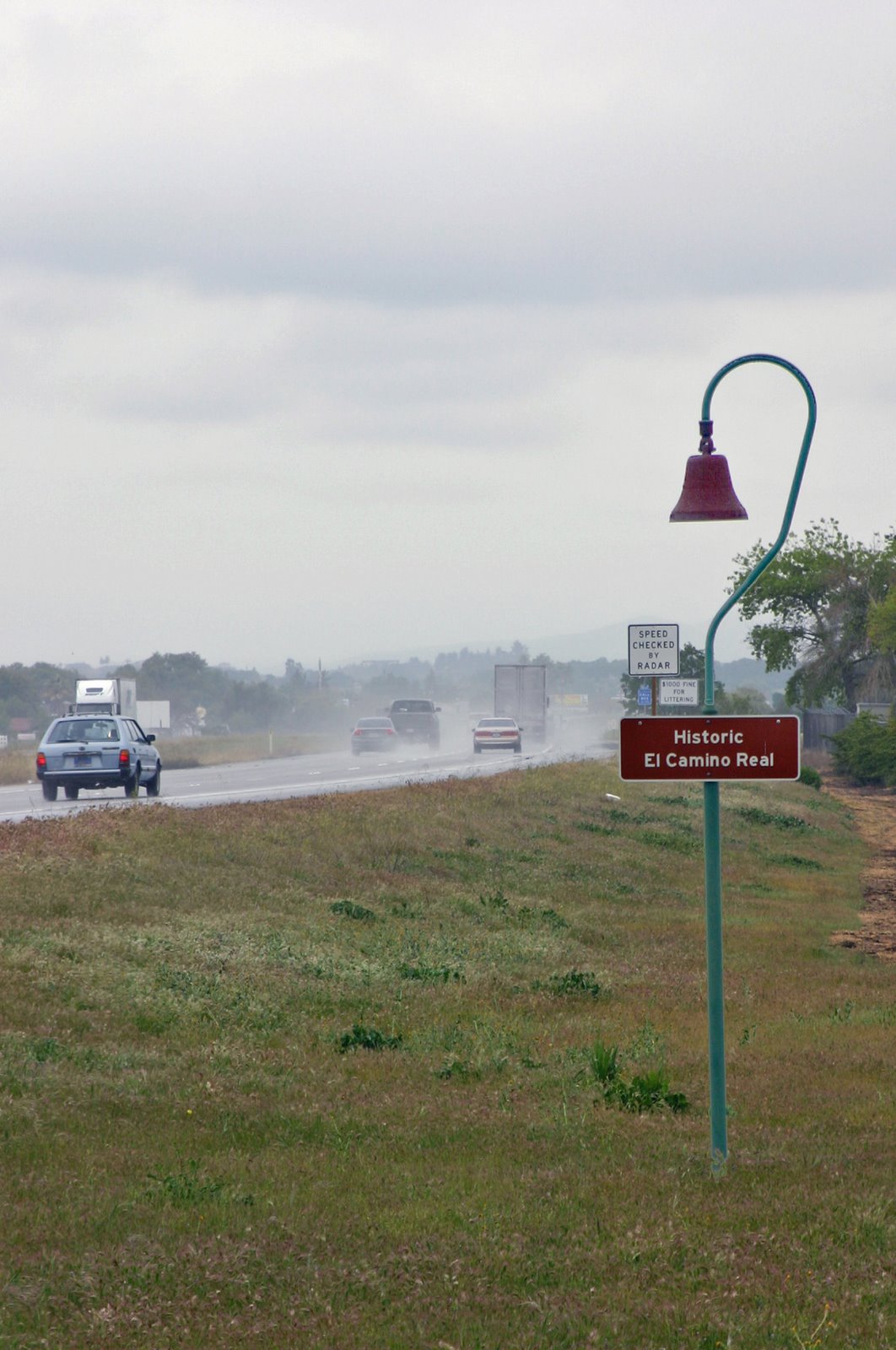 Next thing that I took inspiration from for my piece...is the land here! My neighbor, who has lived on this street for close to 60 years now, says that the region was all orchards! Oranges and plums and figs! Even now, the soil is rich and extremely fertile. There used to be a huge orange orchard near my office, actually right across the street from a big Sony campus. It was a gem in the middle of the city, oranges for as far as the eye can see. I bet you noticed the past tense here. Yeah, its gone, there are apartments there now :((
Here's a picture of my own orange tree...
And the last bit of inspiration...I thought about this for a long time...what is my state known for? What does it say on the license plates? Golden state! So yeah...the last bit is the gold :) Although, I don't know of any gold panning being done where I live...I had use this bit of info about my state :-)
So...here are my earrings that I made for this challenge :-)
These are for sale, although not on my shop. Please send me a message if you are interested :)
There was an inlinkz code for this, but since I am late..its closed :((
Please visit Erin's blog to see the other entries
http://treasures-found.blogspot.com/2013/08/2nd-annual-

challenge

-of-

travel

-stevens.html
.