This year started off with a creative bang, with me participating in the
Art Bead Scene Challenge
for January, and the Art Jewelry Elements weekly earring challenge. I was on track with all of that, but there was a monkey wrench thrown in my plans. I finally went to a "hand" doctor for pain in my thumb that I had been experiencing since last September. Thumb tendonitis it was, with at least 6 weeks of therapy. I got done with it in the first week of March, and I thought I would be raring to go once again. I went to my beading area, looked at the supplies, and felt nothing. At all. Was one very sad moment for me. I decided to organize the space, thinking the clean area will help. Everything got put away in new drawers, and yet nothing.
Then, I saw these earrings on my friend's
Michelle's Facebook page
, and I fell in love. I
needed
them!
So I asked her if they were for sale, she said not these, but she could make me another pair in the color of my choice, for one of my creations in exchange. I was totally game for it! These are really pretty colored lava beads, she didn't even have more in stock. So she combed the internet, and found a source, bought the bestest colors and offered me a choice from these, truly yummy colors!
It was SO hard to make a decision:
This is what I wrote back to her when I finally made a choice:
"
I was hoping you would have purple, which you do, but now I am like...oh, I don't have yellow...or peach...or pink...lol :-)
But then, I don't have any clothes in yellow or pink either. I LOVE the green, but I do have some nice green earrings. So now i have to decide between purple and mauve. I think I will stick to purple. Although the peachy mauve IS my favorite of all. But purple wins
"
While she was busy with the purple lava beads, my mind suddenly came alive, and I knew what I was going to make for her even before I got home from work! That night, I was finally able to design again! I put together the design, and set it out on my new beading tray to work on it the next morning...at 6am! Not only did I make her pair, I also made two more new designs within that hour! I cannot thank her enough for this timely intervention!
She quickly made these for me:
They are SO pretty, they actually inspired me to get all dressed up and go find a friend to take a pic of me wearing them!
Her requirement for what I make was...something with color, and something short. Color is not a problem at all...but short...now that was definitely a challenge! But like I said before, this time the ideas came to me very quickly, and I made these:
And here she is, rocking them!
Isn't she gorgeous!!!
Michelle and I met through the blog world...she does the most amazing work with sterling silver (her earwires were recently featured in Stringing Magazine!), and holds a
Graduate Pearls Diploma
from GIA. Her designs have been
published many times over
, and she has
the best free tutorials ever
on her blog! I searched through my emails to see when and how we started talking, and it was when she had put up a
tutorial on making hoops
on her blog, and I asked her for some more tips. She was
more
than generous with her knowledge, and quite the expert in what she does. She is really good with pearls, and I have recommended she write an eBook sharing her knowledge. And I have reason to believe she just might be working on one!
She has a store on etsy as well (
MiShel Designs
), a very well stocked one, with lots of beautiful versatile designs.
I secretly wanted this one after we decided she would make me the lava ones ;-) And now the secret's out and she knows ;-) But I do
love
the ones I got :-)
See those gorgeous earwires in there! Yummy! (click on picture to go to her store)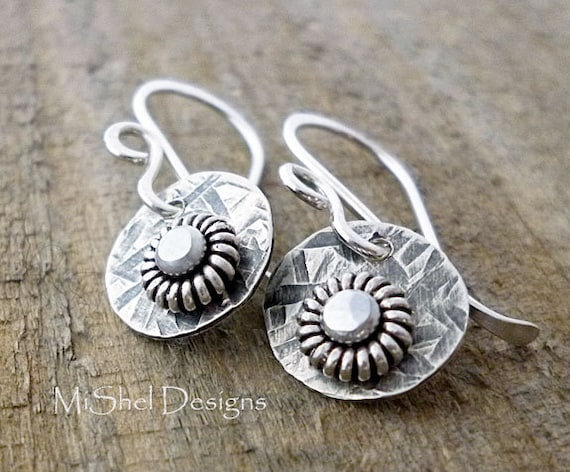 So go on over and see what other gorgeousness she has made up!
Oh, and
here's the link to a post she did about our swap
...
Shel, this was fun, and a huge help to me :-)