Now that spring is
finally
here, summer and beach days can't be too far behind!
Am already in my skirts, tank tops and flip flops :)
Yesterday I was late to a big townhall type meeting at work, so was sitting on the floor, listening to the information given to us..and observing the footwear of people sitting on chairs around me. (I know, I pay so much attention to the important things ;-))
I saw this foot in polka dotted ballet flats, and a tiny little bell from an anklet peeking out! This brought back a
huge
flood of memories from my childhood! I went to a strict, "no-jewelry" convent school, and so come summer holidays, all kinds of adornments would come out. One of my favorite things to wear was something like this
Mine were not this thick, just a single layer of silver bells, but they were awesome. Made such lovely sound...for about a week. After which, it got annoying, and I would take it off.
Fast forward a lot of years ahead, and I was gifted my first hemp anklet by someone when I went to grad school. And thus started a life long love affair! I have good collection of anklets, but all basic chain and in silver. Not sure why, but I forgot all about them for the last couple years. That little polka dotted foot has unleashed that long lost love again.
And especially now, that I can
make
my own, I am thrilled beyond bits!
I have always had a mental block about making bracelets, but I think this one won't face that problem. Hoping to make something soon. And yes, am wearing my favorite one today :-)
Am wondering if anyone would be up for an anklet blog hop?
I'll host if folks are game!
In the mean time...these are a few designs that I loved on etsy:
And am in love with this shop, she has a
110
anklets listed! Enough to drive me nuts!!! Am definitely buying a few from here: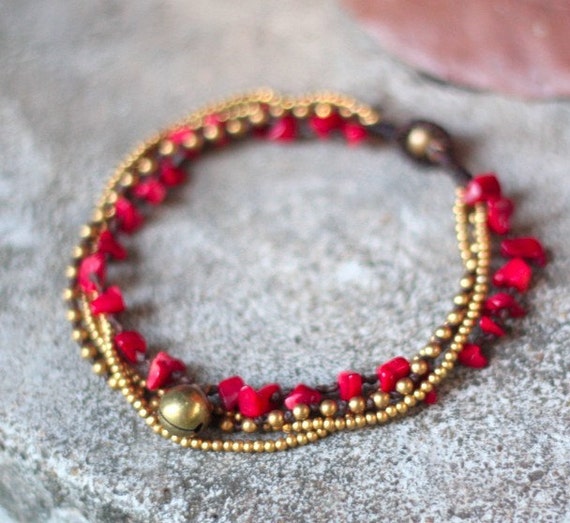 I created a treasury for anklets...and just figured out how to embed it here by using the
Etsy Treasury HTML Code Generator
.
Featured here is another of my favorite stores:
LivJewellery
Awesome fun for the summer!