Yup! Sadafulee finally has an online home!
Here....
Sadafulee...Always in Bloom!
I was supposed to start one on Etsy, on my birthday on the 18th of April. Things got in the way (all of which can be clubbed into one category: procrastination!), and that did not happen.
In the mean time, Etsy got into some controversies about allowing resellers and a bunch of other issues. A lot of folks I knew in the beading community had started taking their business elsewhere. One of which was Luulla. The site is still very new, and is much smaller than etsy, but I liked their interface, and that we could link directly to other social networks (blog, Facebook, Pinterest, Twitter, etc). And their pricing structure was very attractive to me. So the decision about "where" was made.
I still needed to get better pictures, set up my accounting software, and a whole of host of things (all those that we have already put under "procrastination"). Since I was not making any progress on those in any case, I decided to jump the gun and just list something, have something out there, and let people know. Knowing folks are looking at it would make me clean up my act ;-)
So...in the wee hours of May 15th, 2012, I listed a pair of earrings, emailed my friends and family, and pinned it on Pinterest. I listed these: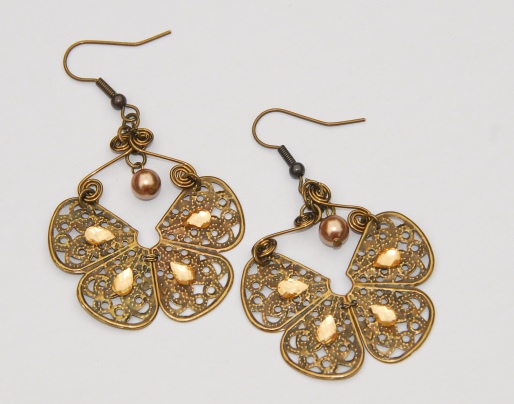 A few minutes after I pinned it, I see an email from Luulla....about a transaction! I was shell shocked! This was too good to be true! And well it was. Will tell you why in a bit.
So I went around bragging to everyone, that I have a store, which is well, empty because it sold-out ;-)
I was loitering around in Facebook and I saw
Melinda Orr
asking to list a photo and store link. Now I had a store. I could post, woohhooo! She wanted 4 links. I was the 4th one! We had NO idea what it was for. Later...I found out, those first four stores were going to be the "featured stores" on that forum! Woot! Oh! But wait, the store was empty! So I scrambled to find a good photo of something else I had ready for listing, and added it. The spotlight stayed on for a few more days, so I got to add a few more listings. Still not done, I need to take better pictures and all that, but I am on my way!!!
And now...about why that first sale was too good to be true: it didn't happen. The buyer didn't complete the payment, and didn't respond to my messages. So I cancelled the transaction. But I was not as upset as I would have been. Because well, what are the chances of this actually happening, right! And...one of my friends had already asked me to make another pair for her, so I did have another buyer lined up already. So all good. This friend was my VERY first customer in so many ways: The first thing I ever sold was to her, the first thing I ever sold after I got my business license was to her. And she bailed me out this time too. But since she didn't buy via Luulla, that "first" title goes to someone as dear to me as her...read on to find out!
That non-paying transaction actually turned out to be a blessing in disguise. I did make my first sale yesterday...to my cousin. I take this, as per my Indian values, as a very auspicious beginning!
So...this is my big story for this month :-) New beginnings for Sadafulee, and I hope I get to make a difference to the kids at
Project Why!